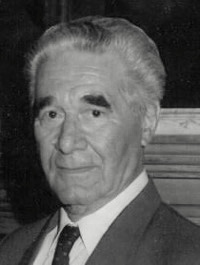 Dr Steven Salamon AM
It is sad to report the passing of Dr Steven Salamon AM, who died on Friday 1 September 2017, aged 99, after an extended illness. His was an extraordinary life, including service in the Second World War, subsequent imprisonment in Siberia and tertiary education in Budapest and Moscow. Steven migrated to Australia in 1957. He joined the Department of Animal Husbandry, University of Sydney, and served under Professor Terry Robinson from 1958 until his retirement as Reader in 1983. Steven was recognized internationally for his research and extensive publications on semen preservation in domestic animals, and in Australia as the pioneer of semen collection and artificial insemination in the sheep industry. He will be missed by his many postgraduate students and, as a man who always put his research into practice, producers and breeders across the livestock industries of Australia.
A full description of the life and research of Steven Salamon may be found in Veterinary Research at the University of Sydney, The First Century, Sydney: Sydney University Press, 2016, pp. 174-9.
W.C. Maxwell