---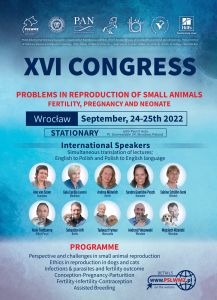 XVI Congress
Problems in Small Animal Reproduction, Fertility, Pregnancy, Neonate
Wrocław, September, 24-25th 2022
---
CENTRE HOSPITALIER UNIVERSITAIRE VETERINAIRE
Pôle équin Service de reproduction équine Atlanpôle
La Chantrerie BP 40706
44307 NANTES Cedex 03 - FRANCE
---
Diploma in Bovine Reproduction (DBR) Course 2022-2024
You or a colleague might be interested to know that University of Liverpool is still planning to run the longstanding Diploma in Bovine Reproduction (DBR) postgraduate course which is now in its 42nd year.
The 2022-2024 DBR course will commence on 12 September 2022. Currently, the plan is to run the course face to face as normal but if this is not possible it will be delivered on-line initially. If you are interested in applying, I would urge you to, firstly, email an expression of interest to DBR office by Thursday 26 May 2022 and to have applied online by Friday 1 July 2022. Potential candidates will be treated on a first come first served basis. Places are limited to a minimum of 10/maximum of 16 .
Further information can be found at the link below, but please don't hesitate to contactdbr@liverpool.ac.uk if you need any further information click here.
---
---
Full-time assistent position in small animal reproduction
Full-time resident in small animal reproduction
---
---
Department of Reproduction at Wrocław University of Environmental and Life Sciences and Leading Research Group InnoWet
Welcomes to apply for Post Doc Position regarding EU-funded Marie Skłodowska-Curie Postdoctoral Fellowship in 2021 (MSCA-PF-2021)


Current research of Department of Reproduction focuses on:
Diagnosis and treatment of fertility disorders in animals
Application of Assisted Reproductive Technology in domestic and endangered animal species (artificial insemination, cryobanking, IVM, IVF/ICSI, IVC)
Advanced methods of germ cells assessment (fluorochromes, flow cytometry, CASA)
Semiochemical communication between animals in the context of reproduction
Reproductive problems in herds of ruminants (mastitis, pregnancy, parturition, postpartum)
We are involved mostly in research projects regarding: application of biotechnological methods in reproduction of dogs, domestic cats and wild feline species; modification of the antioxidant defence system and the properties of cell membranes of birds preserved spermatozoa and evaluation of the influence of the various factors on the behaviour and physiology of the animals.

Who may apply
The postdoctoral fellows must hold a doctoral degree (no longer than 8 years prior 15. September 2021 - the call deadline).
The postdoctoral fellow may be of any nationality. No age restrictions apply.
The postdoctoral fellow cannot have resided or carried out his/her main activity (work, studies, etc.) in Poland for more than 12 months in the three years prior to the call.

Interested applicants are invited to send the expression of interest consisting of:
a one-page cover letter outlining research area, project idea and how he/she could contribute to research profile of Department of Reproduction
a CV (including a publication list)
Please send the expression of interest by 30th May 2021 to wojciech.nizanski@upwr.edu.pl
If you have any administrative questions, please contact the International Research Office at UPWr: international.research@upwr.edu.pl
You may find details on the link
upwr.edu.pl/en/research/post-doc-offer/msca-postdoctoral-fellowship-veterinary-reproduction
---
---

EQUINE THERIOGENOLOGY RESIDENCY PROGRAM
Equine Veterinary Teaching Hospital, National Veterinary School of Lyon.
3-year clinical residency in Equine Theriogenology
Send all documents by email to: Dr. Anne Josson (anne.jossonschramme@vetagrosup.fr) before December 7th, 2020
---

11th International Conference on Pig Reproduction (ICPR 2022)
6-8 June 2022
Ghent, Belgium
Due to the worldwide problems with COVID-19, the international board and the local organizing committee of the 11th International Conference on Pig Reproduction have decided to postpone the conference to 2022. The new date is 6-8 June 2022.
---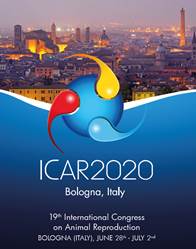 International Congress on Animal Reproduction
June 27th - July 1st, 2021
Bologna, Italy
On behalf of ICAR Board and ICAR Local Organising Committee this is to inform you that due to Coronavirus outbreak the ICAR Board has unanimously decided to move the ICAR Congress to another date, which has been fixed in 27th June – 1st July 2021.
---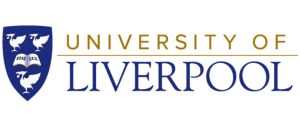 Diploma in Bovine Reproduction (DBR), University of Liverpool, UK
Do you regularly work with cattle and wished you knew more?
The DBR is a Masters level part-time course for Veterinary Surgeons recognised by
RCVS and the European College of Animal Reproduction.
The next DBR course starts on 14 September 2020 and it is advisable to book early since places are limited and allocated on a first come first served basis.
For further information please contact:
DBR Office, Institute of Veterinary Science
University of Liverpool
Leahurst, Neston, CH64 7TE
T: 0151 794 6081
Email: dbr@liverpool.ac.uk
www.liverpool.ac.uk/study/postgraduate-taught/taught/dbr-bovine-reproduction/overview

ESDAR reserves 3000 € to sponsor ESDAR student members to participate in the DBR courses in Liverpool:
-2 times 500 € for student members who can prove that they were ESDAR members for at least 2 consecutive years.
-1000€ for a student member who can prove that she/he has been ESDAR member for at least 3 consecutive years.
Interested students should contact Toni Dovenski of the ESDAR Board and this will be on first comes, first served basis.