General Information
Local Information
Venue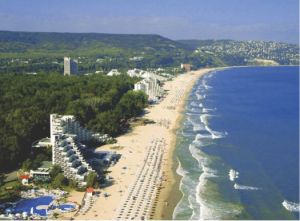 The 19th Annual Conference of the European Society for Domestic Animal Reproduction and
26th Annual European EU-AI Vets Meeting will take place on 16-19 September 2015 in Albena Resort, Varna, Bulgaria.
Albena Resort
The charming Bulgarian coastal resort Albena is one of the pearls of Bulgaria North Black Sea coast. It is located in a picturesque bay 30 km away from Varna city. Albena is a unique blend of breathtaking sceneries, great atmosphere, a peculiar charm and magnetism. It has been awarded with the prestigious prize Blue Flag which is a testimonial for the clear waters of Albena's coasts. Albena disposes of first-rate hotels /3, 4 and 5 stars/. All rooms feature views of the sea or the Baltata National Reserve — a rare combination of dense wet forest and a seashore. The specific sea climate is mild and pleasant with clean air, rich in ozone. The tourist season lasts from May till October. The resort features the biggest spa and wellness centre at the Bulgarian seaside. Most of the hotels offer large conference halls, all with daylight and equipped with modern technical equipment for hosting conferences, congresses, business forums and discussions. Albena hosts many cultural events and conferences. The resort offers visitors numerous sport & recreation activities including football pitches, multiple tennis courts, indoor stadium, golf courses, bowling, jet-ski, an equestrian base and many more.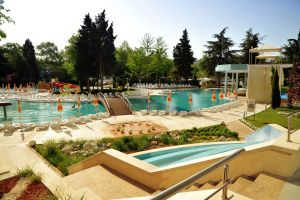 Getting there
By Plane
Albena's closest airport is the International Airport of Varna which welcomes around 1.5 million visitors every year, many of whom are traveling from the main European airports. Varna's international airport (www.varna-airport.bg) is an increasingly busy place with scheduled and charter flights from all over Europe, as well as regular flights to and from Sofia.
By Bus/Train
Albena could be reached also by using an international bus or train to Varna, where one can order an individual transfer or a taxi to Albena.
Transfer Airport of Varna is situated in 30 km from Albena Resort.
CIM will arrange individual transfers upon arrival and departure /from Airport of Varna to Albena Resort and back/ for all participants upon preliminary request at the price of 26 euro per person in one direction.
Precise travel details should be given to CIM at least 2 weeks prior to arrival. In case of last minute changes please inform CIM in writing.
For save and comfortable trip is advisable to use CIM services.
Transfers' booking and payment can be done on-line at:
www.cim-events.com/19th-annual-conference-of-esdar-and-26th-annual-european-eu-ai-vets-meeting/85
Passports & visa
Only valid passports are required from all the EU countries. Delegates from countries where visa is normally required for entry to Bulgaria are reminded that they will need to obtain one from the appropriate Bulgarian Embassy/Consul. Please check at the nearest Bulgarian Embassy all the documents required for your country or visit: www.mfa.bg/en/pages/109/index.html
Monetary system
The national currency is the Bulgarian Lev (BGN). Bank notes of the following denominations are in circulation: 1, 2, 5, 10, 20, 50, 100 Levs. 1 Euro = 1,95 Levs.
Shopping
Items made of leather and fur are very popular on the local markets. Here you can find clothing by local manufacturers, and by famous Italian firms.
Items made of silver, as well as traditional clothes and handmade tableware are the most popular souvenirs that travelers get in the memory of trip. If various handicrafts and souvenirs are best to buy in a market, jewelry should be purchased in specialized shops only.
Most shops open at 9:00 and accept visitors till 19:00. Large shopping centers may work until 21:00, while supermarkets and food stores often work around the clock.
Tipping
When a gratuity is not included in your bill, which is usually the case, 10% is customary. If service is outstanding, you could go as high as 15%. With taxi drivers, you usually just round up the sum if you have been happy with the ride or for the sake of convenience.
Climate
Moderate continental climate: mild spring and autumn, hot summer, cold snowy winter. It is usually sunny and warm in mid of September. Daily temperatures range from 18o to 24o C. For current conditions in Bulgaria you can visit: weather.cnn.com/weather/forecast.jsp?locCode=LBSF
Time
Local summer time: UTC/GMT + 3 hours
Electricity
220 Volts, 50 Hz
Electric plugs
Schuko plug (type F) and round pin attachment plug (type C)
Bulgaria
Bulgaria is a part of the Balkan Peninsula in South Eastern Europe. The state of Bulgaria was first founded in 681 AD and has a long and varied history. Since January 2007 Bulgaria is a member of the European Union.
Here are some facts about Bulgaria:
The oldest crafted gold in the history of mankind
Of the 300 cultural and natural sites in the UNESCO List of World Heritage, nine are in Bulgaria.
Bulgaria is the country of yoghourt – the food of the centenarians.
The world's perfume and cosmetics industry could not do without the Bulgarian attar of roses – the Bulgarian oleaginous rose yields 80% of the world's production.
Small Bulgaria is one of the world's largest wine producers together with France, Spain, Italy and Greece.
Bulgaria is a beautiful mountainous country, with tourism opportunities being one of its biggest assets. Bulgaria possesses beautiful landscapes and beaches. The Black Sea Coast on its East border is famous for its fine sanded beaches, and perfect temperatures of water and air.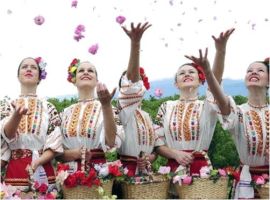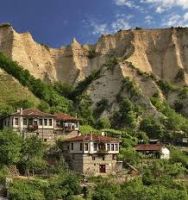 Varna
This is Bulgaria's third largest city, a large port, and an important cultural, trade and industrial centre. Founded in the 6th century BC, the city boasts lots of remains from Roman and Byzantine times. Varna is rightly known as the capital city of the Bulgarian Black Sea coast. Its location on the Northern shore of the Black Sea, along with its richness in natural resources make it one of the famous resorts Europewide, definitely the largest one in the Black Sea region. The harbor is the largest in the country, there is an international airport, a railway station and active transport communication to the inner part of the country. In Varna it is worth visiting the Archeological museum with one of the richest exhibits in Bulgaria and the oldest gold in the world, the Revival museum, where a valuable collection of icons is held, the Ethnographical museum located in a Revival period house. The Roman thermal baths (2nd - 3rd century) are the biggest ever found in Bulgaria. Also of interest could be vsiting the Revival clock tower of 1880, as well as the cathedral of the Assumption in the center of the town. Well known as a resort for decades Varna offers excellent conditions for recreation, entertainment and sports.